11 Lessons for the Class of 2017 (and anyone looking to graduate to their next stage in life)
April 26, 2017
It's that time of year. Students are about to graduate. Commencement addresses are being written. And the rest of us often use this time of year as a opportunity to think about the progress we've made and the adventures that could be on the horizon.
This week I hosted a Lunch-and-Learn at Gainsight, where I spoke about Career Growth. I picked 11 books I've read and described one critical insight I learned from each author about thriving in one's career.
You can add these to your reading list...or use this post as the Cliffs Notes :)
#1: Happiness Precedes Success in Business
Ted Leonsis is the former vice chairman of AOL and has pursued many business ventures over the course of his career. In his book he writes that he was on a plane that almost crashed, and describes how he changed his life after that moment. (This is TV-worthy stuff.)
He grew to realize that he needed to build a happy life for himself independently of his work in order to maximize his success in business. More than that, he made the pursuit of happiness integral to his businesses.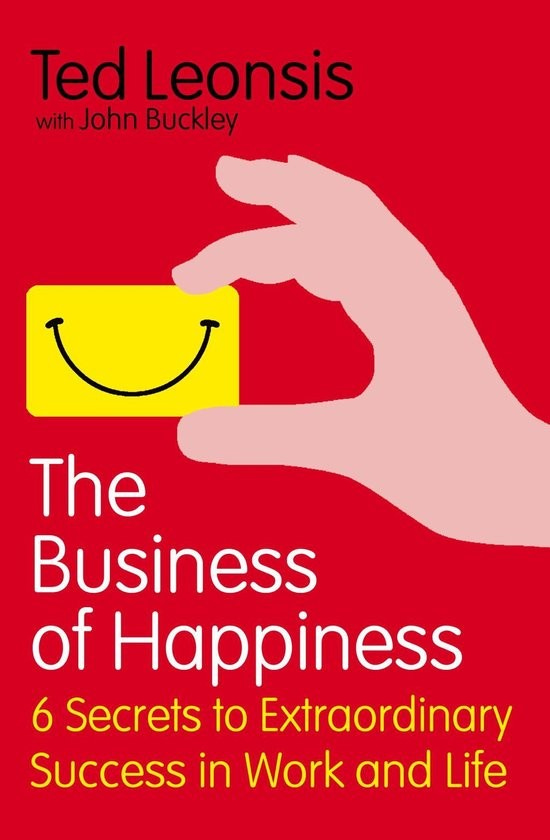 (The Business of Happiness: 6 Secrets to Extraordinary Success in Work and Life by Ted Loensis)
#2: Find Your Tribe(s)
Sheryl O'Loughlin would agree about the importance of communities. She's the former CEO of Clif Bar and created the Luna Bar (which I have eaten thousands of). In her book Killing It!, she writes that community is critical to one's emotional well-being and commercial success. She found a sense of belonging in both her Jewish community and in the entrepreneurial community.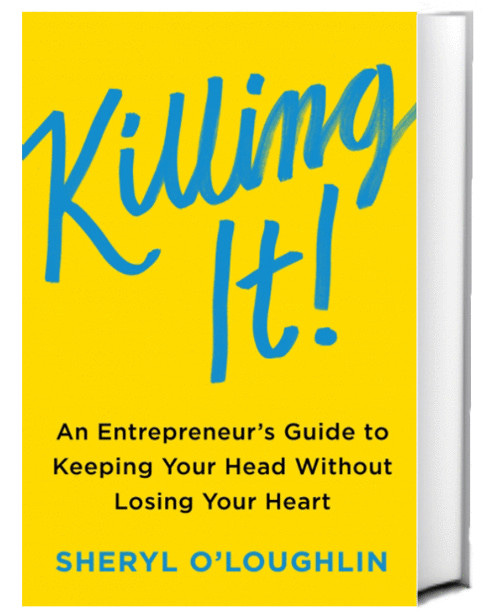 (Killing It: An Entrepreneur's Guide to Keeping Your Head Without Losing Your Heart by Sheryl O'Loughlin)
Surrounding yourself with folks who share your beliefs and who struggle through similar challenges can provide you with the reinforcement you need to push ahead. It's important not to close yourself off from people who are different from you - for many reasons, some of which have played into recent politics. But I've also found it important to belong to communities that help me stay grounded.
Equally, I've found it's essential to proactively build communities around yourself. When you're no longer in school, and since people change jobs more frequently than ever, communities aren't always automatic. You might have to go out of your way to build them.
Motivational speaker Jim Rohn once said, we're the average of the 5 people we spend the most time with. Think about which communities you want to join or build, because they will deeply influence you. Especially, they'll influence your vision in life - i.e. your BHAG.
#3: Have a BHAG
The concept of a Big Hairy Audacious Goal was proposed by Jim Collins and Jerry Porras in their book, Built to Last. This type of goal isn't tactical; it's "an audacious 10-to-30-year goal to progress towards an envisioned future."
It's aggressive. But it can also be vague ("hairy"). Most of us don't know precisely what we want to be when we grow up (even when we're grown up). But we can all have a fuzzy notion of who we want to be many years from now.
Mindy Kaling had a BHAG. She's known for being a lead writer for The Office and more recently for being the creator and star of The Mindy Project. She wrote two books in which she describes (in a series of hilarious stories) her pursuit of her long-time, bold dream to have her own TV show. Given how few TV shows have starred a woman with Indian heritage, it wasn't obvious that she'd get there. But she did.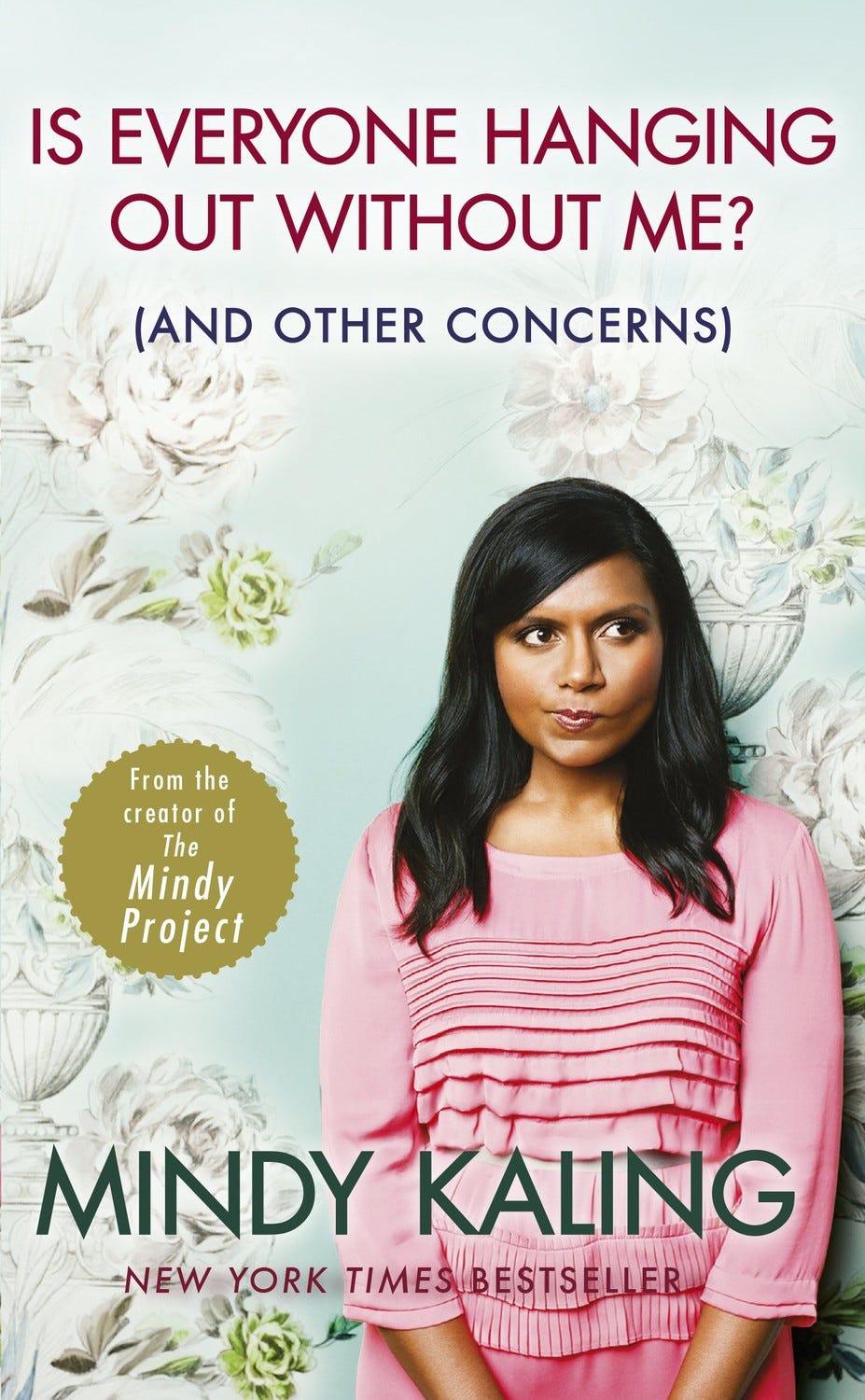 (Is Everyone Hanging Out Without Me? (And Other Concerns) by Mindy Kaling)
When we keep that vague but conscious notion of what you want to accomplish in the back of your mind, we'll find that we naturally gravitate in that direction.
#4: You're Competing in a Global Festival
So you have a BHAG. But how should you focus your career in the next 5 years? The next 12 months?
A number of years ago, I was interviewed for a job at retail mobile app startup, Shopkick, by its founder, Cyriac Roeding. His primary interview question stuck with me. He asked:
Imagine you're competing in a global festival. It's like the Olympics, in that everyone in the world is competing in this festival. But there's a competition for every single skill you could possibly imagine. There's a competition for juggling, a competition for solving puzzles, a competition for making people laugh, and thousands of others. Which event would you join, to maximize your chances of winning?
He was essentially asking, what was my competitive advantage?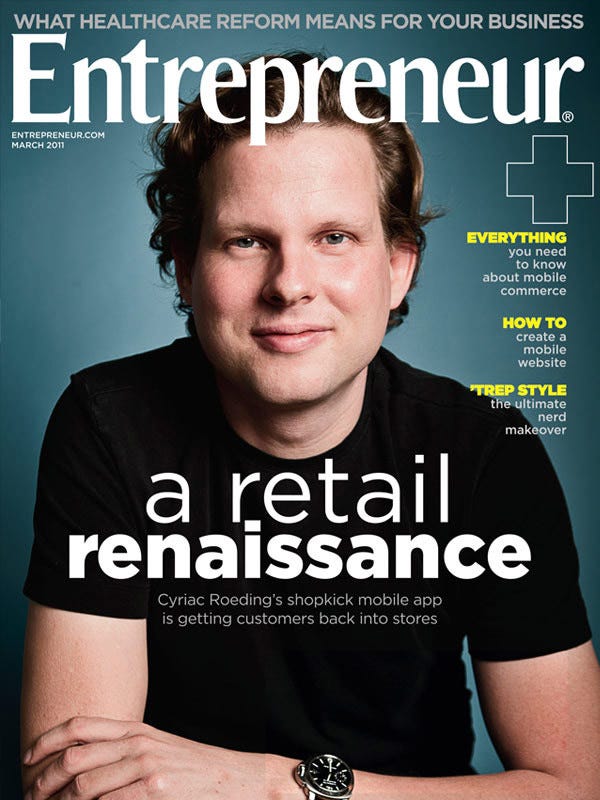 (A Retail Renaissance: The Shopkick Mobile App)
It's no secret that the world has become increasingly globalized (even with recent political events), and the long-term trend suggests that we will increasingly have to compete in a global labor pool. That means we need to consider not just what we're good at, but what we're good at relative to the rest of the world population.
#5: What Secret Do You Know?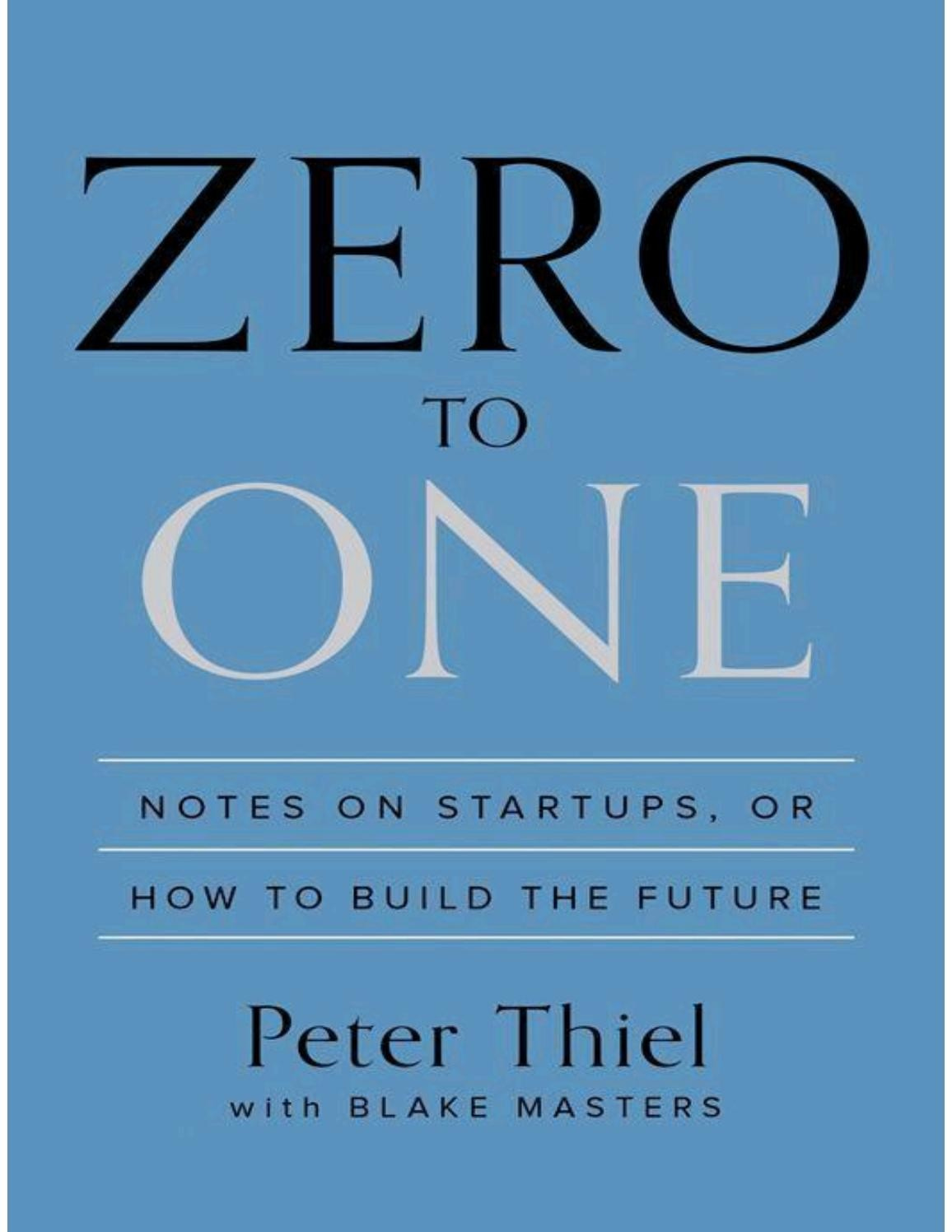 (Zero to One: Notes on Startups, or How to Build the Future by Peter Thiel)
In Zero to One, Peter Thiel frames the question of competitive advantage as advantage based on information, understanding, and belief. In entrepreneurship, you can become massively successful if your idea for your company is not only Right, but also Non-Consensus - i.e. few people agree with you that your idea is Right.
It's like trading stocks. If everyone agrees with you that a company's stock is valuable, that agreement will be baked into a higher stock price, so you'll have a harder time making money if you invest now. It's when you invest in an underpriced stock that you can make the big bucks.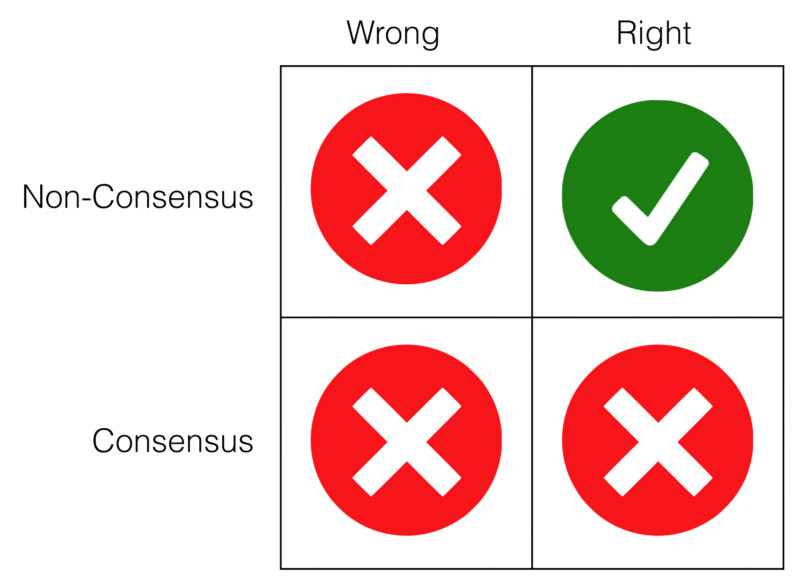 So Thiel asks: What secret do you know? What idea do you know that is Right, but that few people believe is Right?
Answering this question can lead to success not just in entrepreneurship, but in business and in any other competitive arena.
#6: Pick the Right Industry
The task of finding a secret can be daunting. So while you're searching, mitigate your risk by joining an industry that's taking off. You might not have a competitive advantage, and even the company you join might not have one, but you'll be okay because the broader industry is taking off. You can always apply your skill set at another company if yours doesn't perform well.
In his book The Industries of the Future, Alec Ross offers his perspective on which industries are going to be a big deal.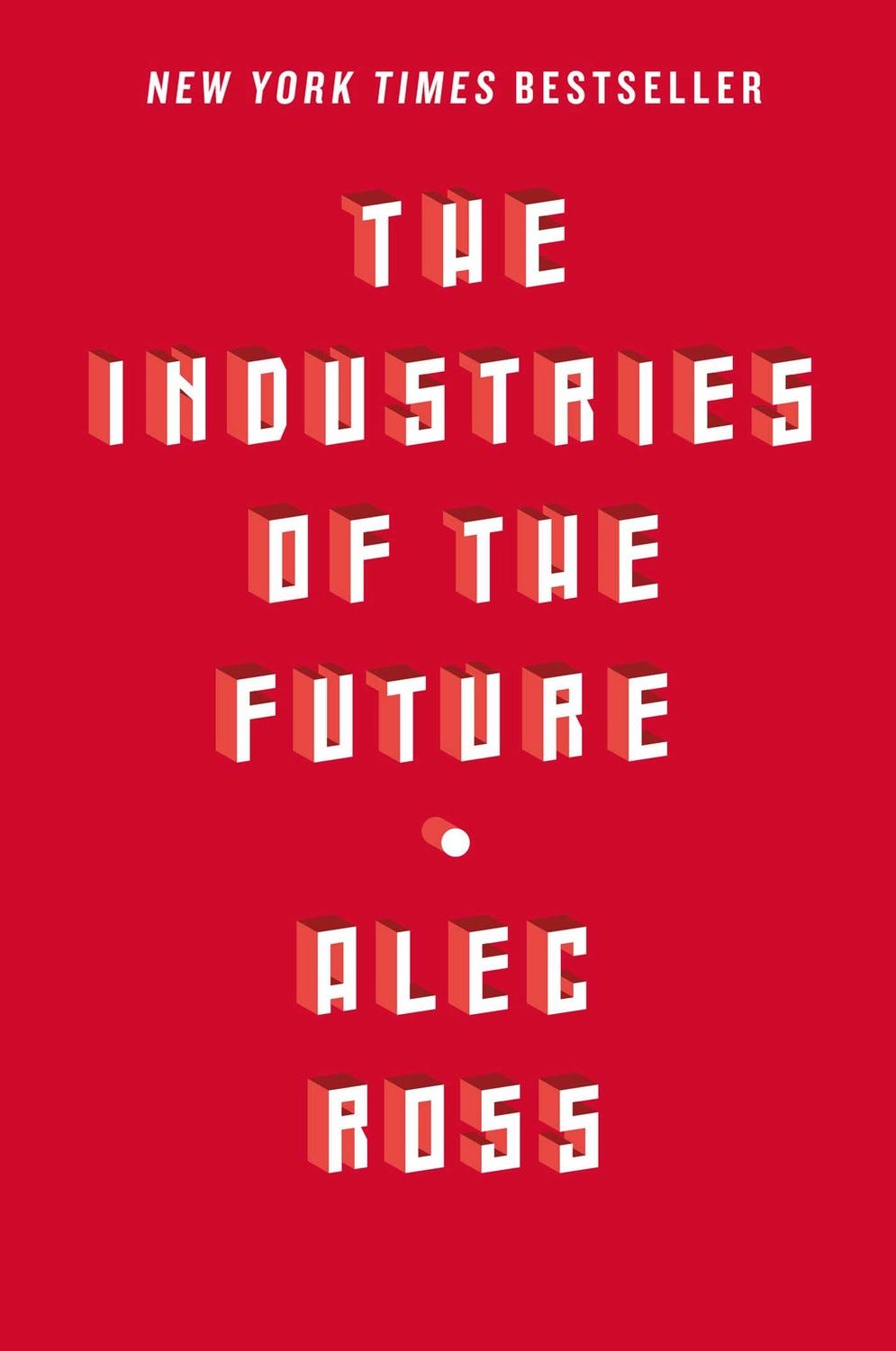 (The Industries of the Future by Alec Ross)
Ross was Senior Advisor for Innovation to Hillary Clinton, during her term as Secretary of State. He has traveled the world to speak with innovative companies, so he's in a good position to identify trends.
#7: Optimize Risk and Reward
Once you've picked a strong industry, be thoughtful about which company you join. If you join a company too early and you're not a co-founder, you might be taking on too much risk. If you join a company too late, you've forgone the opportunity to benefit from the company's growth.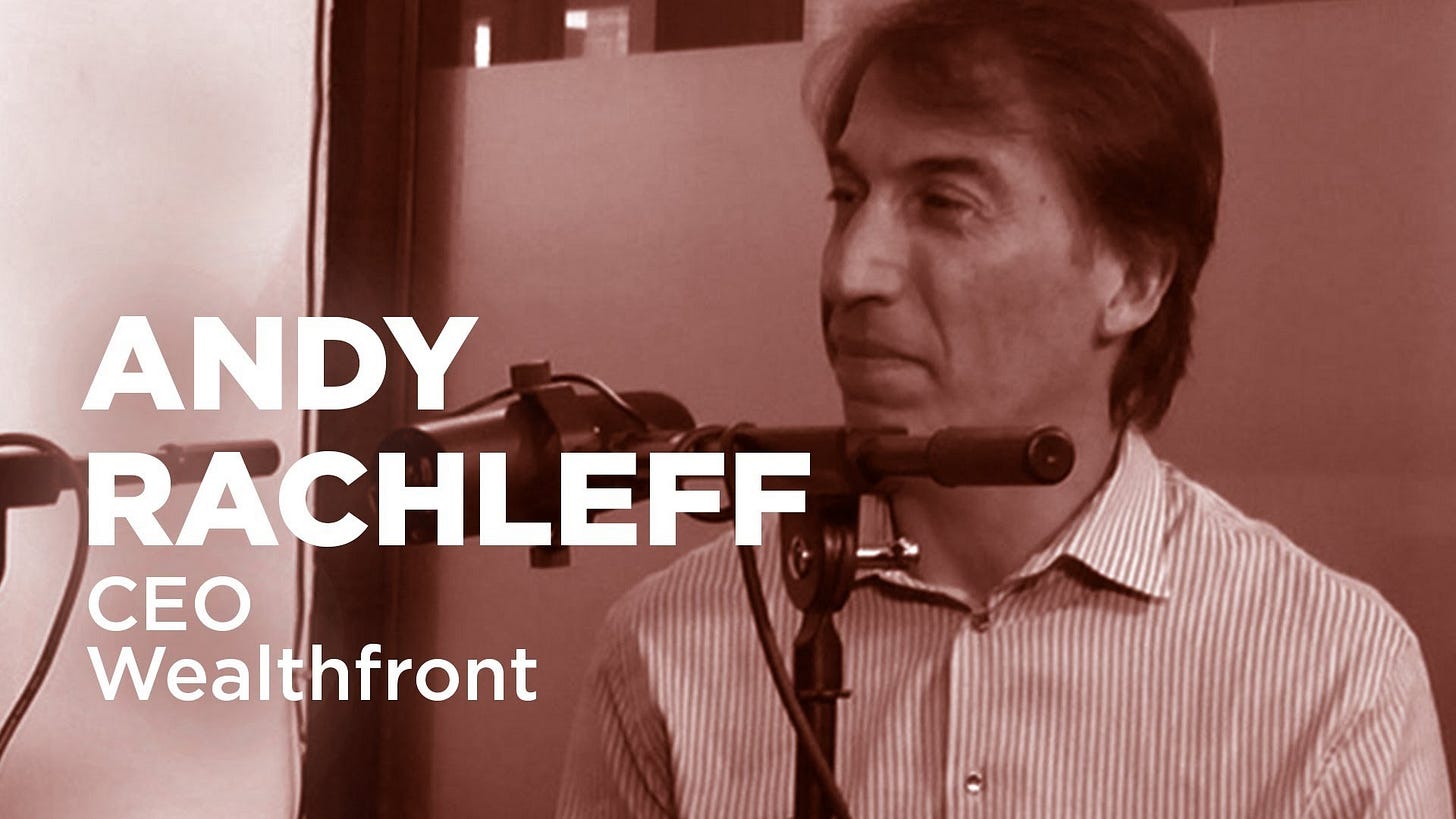 (See more from Andy Rachleff here.)
Andy Rachleff is the CEO of Wealthfront and was also a professor of mine back in business school. At the time, he published a guide for optimizing your risk-to-reward ratio in career decisions. The takeaway was: join a company that has at least $10 million in revenue. At that point, much of the risk has been mitigated, but the upside in the company remains.
This path isn't right for everyone. Some people feel naturally at home in early-stage companies; others feel more comfortable at a stable one. But if you're looking to maximize your reward-risk ratio, consider joining a company at this growth stage.
#8: Sit at the Table
So now you're at a great company in a great industry, and you're leveraging your competitive advantage in pursuit of your BHAG. How do you succeed?
Sheryl Sandberg's book Lean In was framed as focusing on women in the workplace, but the lessons in it are relevant for everyone. Having seen some junior team members decline to sit at the table in meetings with senior executives and instead retreat to a chair near the wall, she describes the importance of "sitting at the table" to bolster one's presence.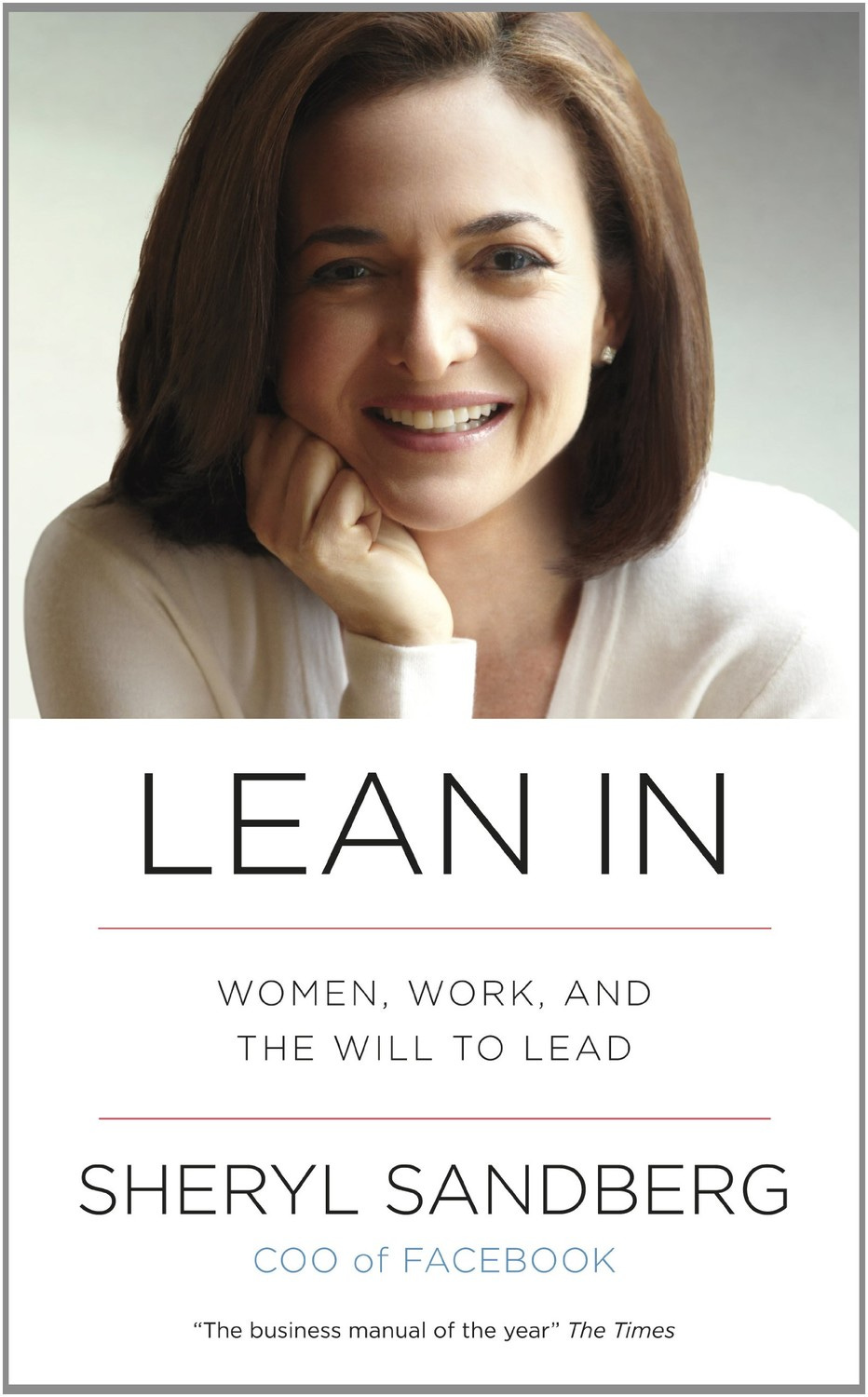 (Lean In: Women, Work, and the Will to Lead by Sheryl Sandberg)
"Sit at the table" also has a figurative meaning. It's an exhortation to join the conversation, seize opportunities, and conquer your fear to try new things.
#9: Be in Permanent Beta
Conquering that fear of trying new things is critical nowadays. The world is changing at an ever-increasing pace.
Reid Hoffman says, we need to be prepared to change ourselves as well. We're never finished products; we need to always be in beta, prepared to adapt to changing conditions in our environment.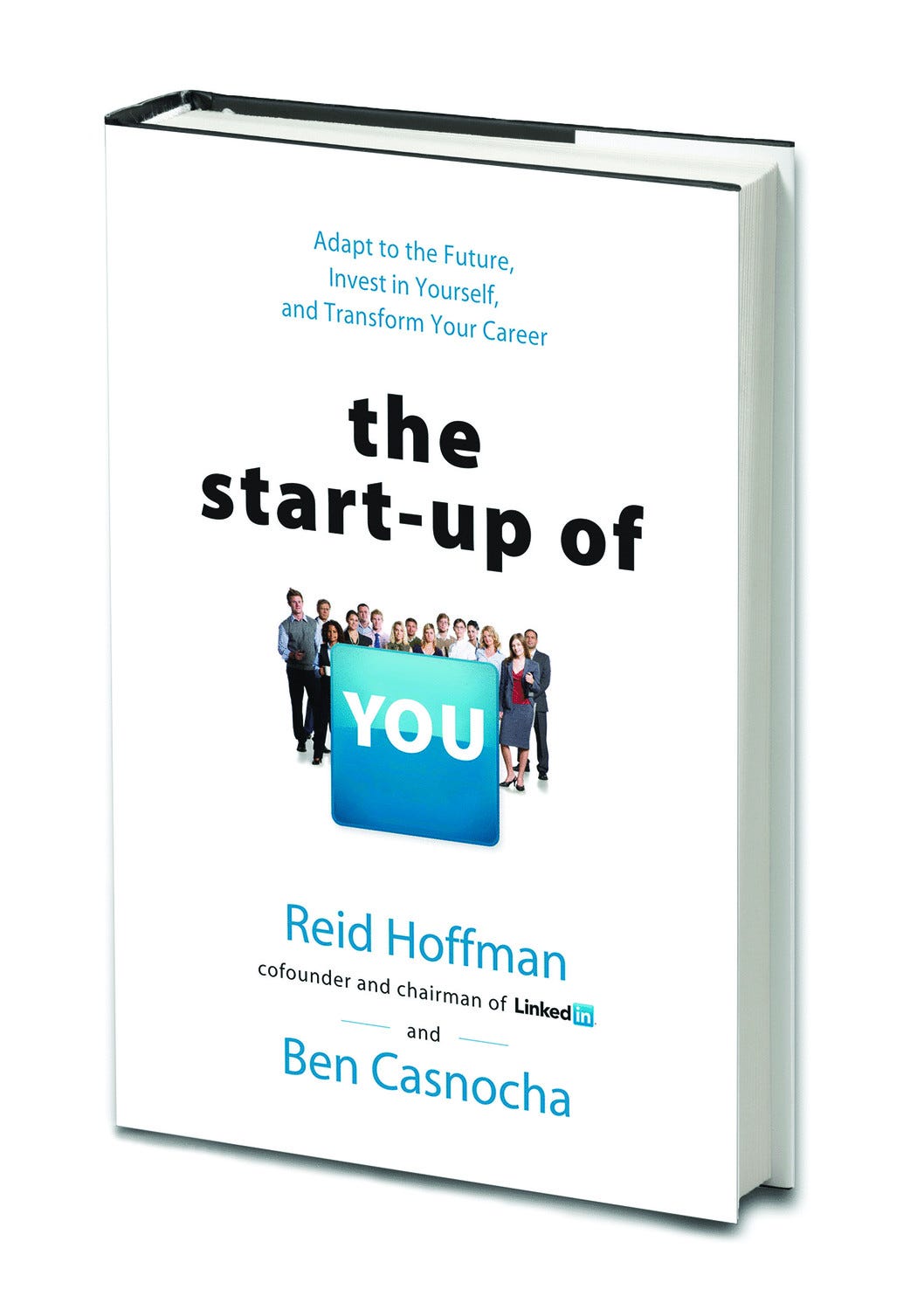 (The Start-up of You: Adapt to the Future, Invest in Yourself, and Transform Your Career by Reid Hoffman)
I'd add: Learning to learn quickly is one of the most important skills that people can develop.
#10: Your Mind is Like Software
Learning quickly also requires a belief that it's possible to learn throughout our lifetimes.
Elon Musk believes that we have the ability to continuously adapt ourselves. He certainly has lived his life that way, getting up to speed on one industry after another (the internet, electric cars, energy, and space exploration) so that he could transform them.
Whereas hardware is difficult to change (i.e. this would require disassembly or construction), software can be continuously and infinitely updated. Musk sees the human mind as software, capable of tremendous learning and flexibility.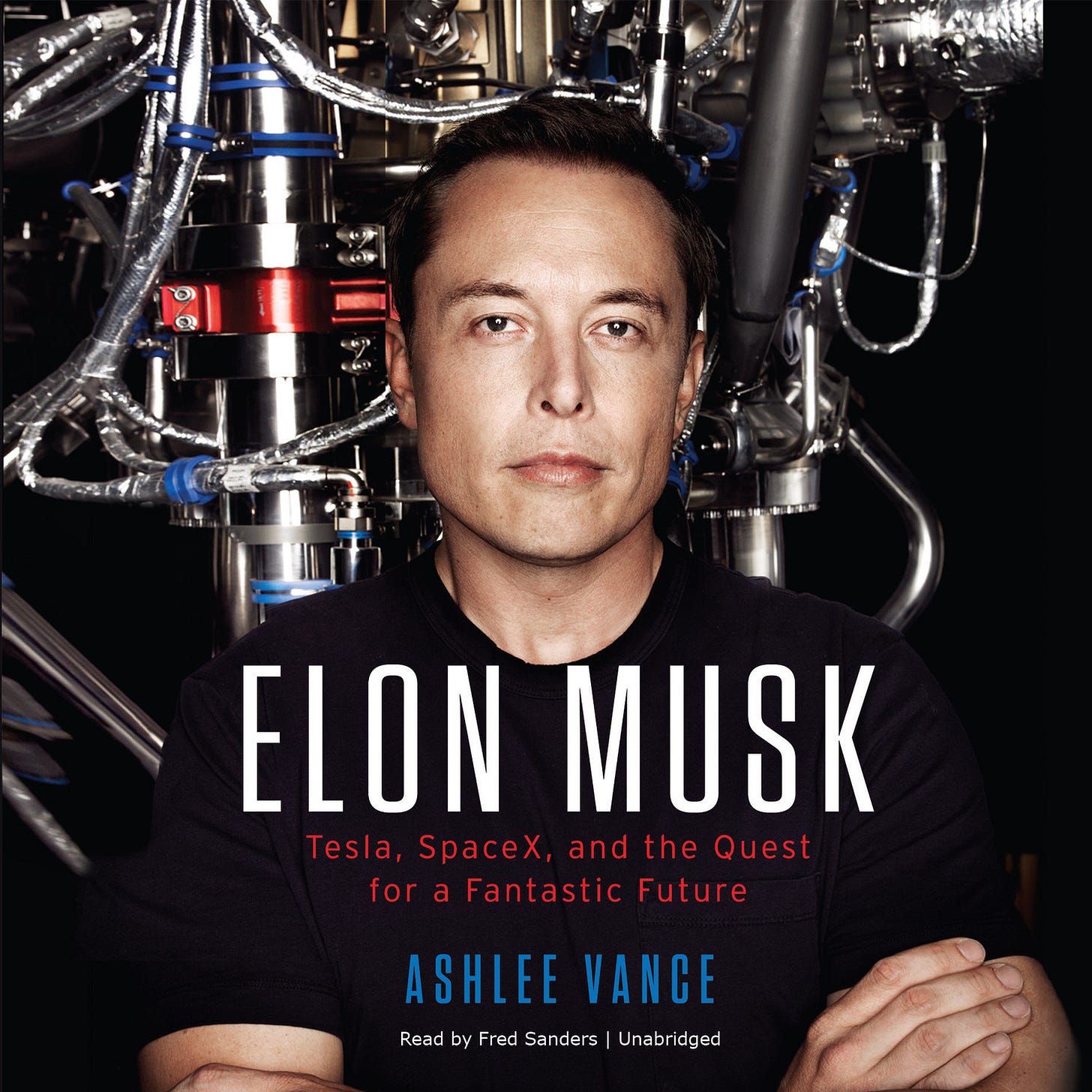 (Elon Musk: Tesla, SpaceX, and the Quest for a Fantastic Future by Ashlee Vance)
#11: Adopt Good Habits
Learning and growing requires discipline. I can think of no better role models in this area than the Wright Brothers, whose lives the famous historian David McCullough chronicled in his biography. The two brothers kept to a strict work and sleep schedule. They meticulously planned and documented every experiment they ran on their airplanes. And given the scope of their accomplishments, their humility was remarkable. There's a lot to be said for good habits:)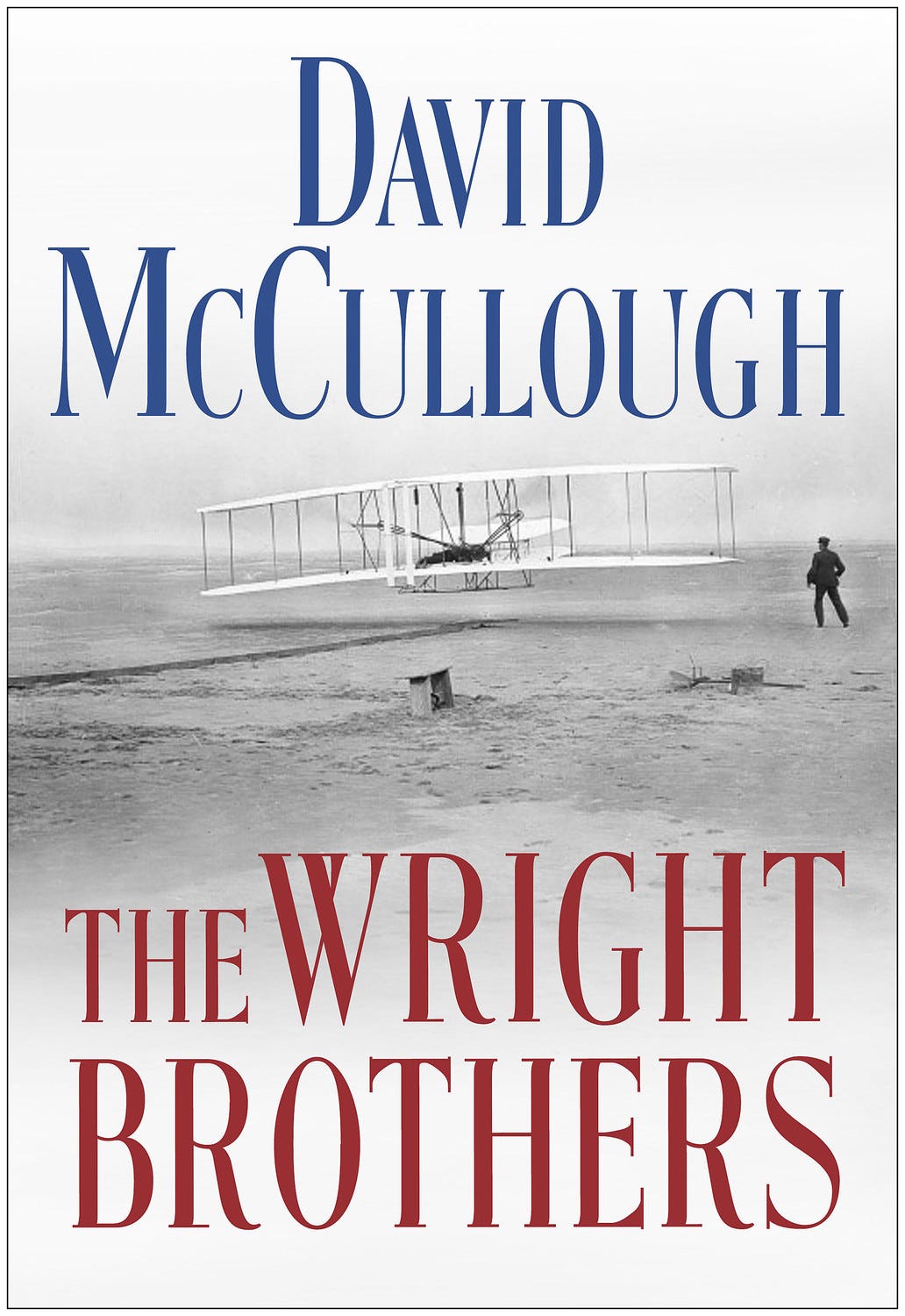 (The Wright Brothers by David McCullough)
So, the 11 steps to thriving in one's career:
Happiness Precedes Success in Business

Find Your Tribe(s)

Have a BHAG

You're Competing in a Global Festival

What Secret Do You Know?

Pick the Right Industry

Optimize Risk and Reward

Sit at the Table

Be in Permanent Beta

Your Mind is Like Software

Adopt Good Habits
What are your lessons for the Class of 2017? Share them in the comments below.